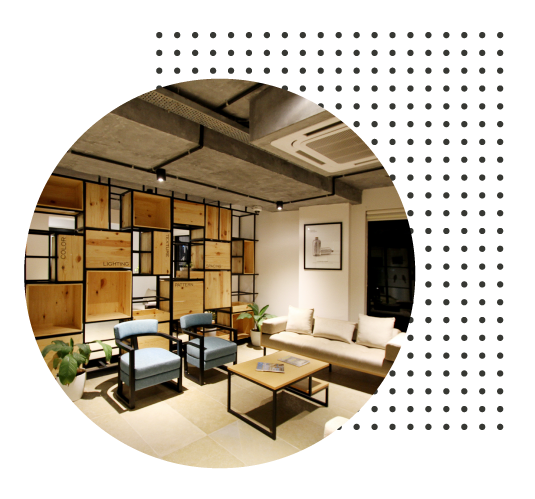 We Create a Comfortable Interior Design
Established in 2016, we are a Bengaluru – based interior design company, specializing in private residential, office spaces and multi-unit developments.

Our expertise extends across all stages of design and execution. From feasibility studies, planning applications, and conceptual and detailed design to monitoring execution on-site, procurement, dressing, and hand-over, ensuring each project is finished to the highest level of quality.
We Set The Trends Of Modern Living.
Our concepts are clear and beautiful, Inspiring features for your projects.
Creative Designers
Award Winners
Quality Products
Customer Support
01
OUR MISSION
Our mission is to help our clients visualize what they need, and create and provide them with the best interior design solutions. The goal is to reach as many clients as possible, not just in Bangalore, but nationwide. Our teams will overachieve because everyone will be surrounded by like-minded people who have passion for what they do and share a common pursuit of professional growth without barriers.
02
OUR VISION
To be a world-class design practice and a bench mark in interior designing and adopting best interior Project Management practices which excels in creating an unforgettable experience for our clients, thereby helping build luxurious and livable home for our clients. We specialise in providing our clients with the best of interior designing solutions for home and office, including custom furnishings, lighting, window treatments, artwork, and accessories.
03
OUR TEAM
RAV Interiors is a team of experienced & talented architects and designers who have implemented hundreds of projects and taken company on the top positions. An energetic team of in-house architects, engineers, consultants work intensively with the clients, welcoming new insights that can lead to specific innovative solutions. The professional team at RAV INTERIORS providing design excellence by utilizing the latest technology, creative thinking and maintaining close client interaction. Our team makes every project an interactive process of communication and decision making that engages our clients every step of the way
04
OUR GOALS
We take pride in being the full package, and in offering that to you. - Our ultimate goal is to ensure you get more value from every square feet - We'll help you optimize world class interior, RAV will strive to be a market leader in our core areas by delivering an exemplary quality services in bangalore.